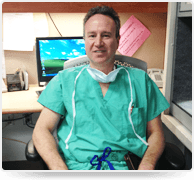 Dr. Mark Fraiman is an accomplished hepatobiliary and pancreatic surgeon (liver surgeon and pancreas surgeon) at The University of Maryland St. Joseph Medical Center Liver and Pancreas Center.
A native of Baltimore Maryland, he completed his advanced liver and pancreas training in California in 1997 at UCLA, a world-renowned medical center.
Since completing his training, Dr Mark Fraiman has earned a reputation as a high-volume, highly accomplished and respected liver and pancreas cancer surgeon in Baltimore, Maryland. He specializes in the surgical management of complex liver, biliary, and pancreatic conditions and diseases.
Dr. Mark Fraiman is rated 4.8/5 stars on healthgrades.com based on 12 reviews. 
Accomplished Pancreatic & Liver Cancer Surgeon in Baltimore & Towson
A specialist in the surgical treatment of both liver and pancreatic cancer, Dr. Fraiman provides patients with a comprehensive treatment plan and minimally invasive surgery. He is well-known for performing the Whipple procedure with expert skill, short operative times, and superior outcomes.
Dr. Fraiman has become a leading liver cancer surgeon, performing a number of major liver resections. Since founding the Liver and Pancreas Center at St. Joseph Medical Center in 2006, Dr. Fraiman's complication rate for both pancreatic and liver surgery is very low in comparison with published benchmarks.
Top-Notch Team on Your Side
Dr. Fraiman treats his patients with liver or pancreatic cancer using a multidisciplinary, holistic, and patient-centered approach at the St. Joseph Medical Center in Baltimore, MD.
His team of specialists includes medical oncologists and radiation oncologists who collaborate to formulate a comprehensive treatment plan. Compassionate and patient-centered care is a priority for him and his team at the Liver and Pancreas Center of St. Joseph Medical Center.
Awards & Honors
Named "Top Doc" by Baltimore Magazine Seven Years in a Row
Honored as "America's Top Surgeon" in 2014
Featured in Guide to America's Top Surgeons
Top-Ranked Liver Surgeon in Baltimore & Towson
Right here in Maryland, you'll find a team with expertise in diagnosing and treating liver and pancreas conditions. Led by Dr. Fraiman, our surgical team specializes in providing top-notch care to each patient, from initial consultation to the post-operative period. We have extensive experience diagnosing liver and pancreas illnesses, establishing who is a good candidate for surgery and performing highly complicated surgical procedures.
Meet the Doctor
Dr. Fraiman uses new surgical techniques and innovative treatments to treat various cancers and benign tumors. He is the leading liver and pancreas surgeon in Maryland who specializes in performing the Whipple procedure. Through St. Joseph Medical Center, you'll find treatment for conditions such as:
Cancer of the liver and pancreas
Gallbladder and bile duct cancer
Chronic and acute pancreatitis
Metastatic colorectal cancer
Neuroendocrine tumors
Pancreatic cysts
Symptomatic benign liver lesions
Bile duct strictures and injuries
Diagnostics and Treatment
Dr. Fraiman and his team use state-of-the-art, advanced diagnostics to diagnose liver and pancreatic disease and optimize treatment plans. These include:
CT/PET scan, MRI and laparoscopy
Liver volumetrics to find out the volume of the liver and safely plan for liver resection surgery
Live biopsy in order to assess risk factors and signs of liver failure or disease
Radiation and Targeted Therapy
Chemoembolization: This procedure delivers chemotherapy drugs directly to the tumor. Previous experience and extensive training allow our radiologists to perform this procedure to fight even the most advanced cancers for safe outcomes.
Radio-Ablation Therapy (RF Treatment): This is a type of treatment that destroys tumors by using thermal energy without removing them. It is performed for lesions percutaneously using CT scan or ultrasound guidance, either by the open or laparoscopic method.
Surgical Approaches
As a surgeon for pancreas and liver tumors, Dr. Fraiman uses a variety of minimally invasive surgical approaches whenever feasible to reduce pain, blood loss and discomfort, and allow for faster recovery. He is specially trained to perform various laparoscopic surgeries to treat many liver and pancreatic ailments.
While these operations are often done through open surgery methods, Dr. Fraiman specializes in implementing the least invasive techniques using small video cameras and tiny incisions to reduce trauma. Most patients are discharged in a shorter length of time, regardless of the size of the tumor or the complexity of the surgical procedure performed.
Some types of resections performed using both open and minimally invasive techniques include:
Whipple procedure: to remove part of the pancreas, gallbladder or intestine
Hepatectomy: to take out part of the liver
Distal pancreatectomy: to remove the tail portion of the pancreas
Dr. Fraiman's philosophy is to tailor the surgical procedure to the individual's needs. In other words, he does not treat a picture of the MRI or CT scan. Instead, he focuses on what's best for the patient, down to concerns about the cosmetics of the postoperative scar.
Contact Our Liver and Pancreas Center Today
Our state-of-the-art technology, together with the hands of highly capable top pancreatic cancer surgeons, means you have access to a comprehensive and individualized treatment right here in our patient-centered environment. Our goal is to make your experience as comfortable and seamless as possible. To get in touch with our pancreas and liver specialists, please complete our contact form, and we will get back to you as soon as possible.