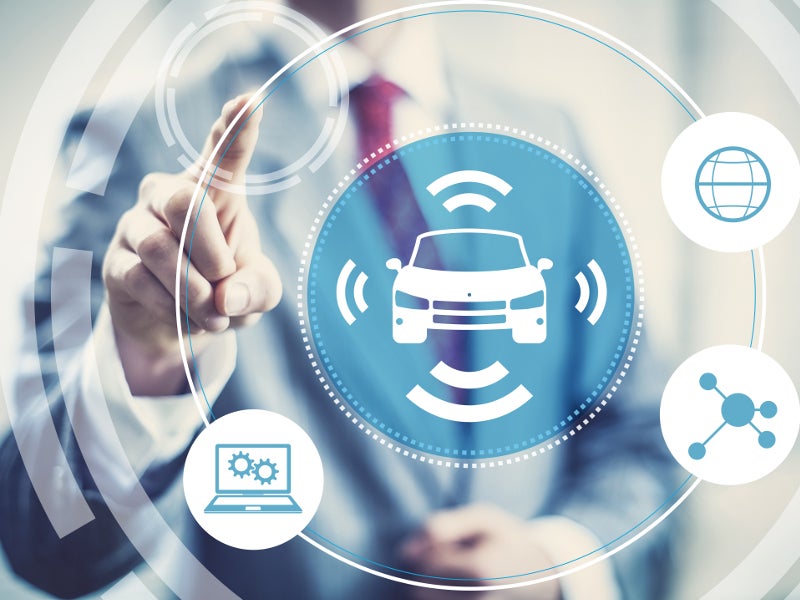 The introduction of autonomous vehicles in retail aids the retailers in terms of reduced delivery cost and time, increased logistics efficiency, and improved last-mile connectivity, among others. In a bid to stay ahead of the competition in embracing the AVs in the retail landscape, major retailers have already begun partnering with auto manufacturers to use self-driving vehicles for online deliveries.
Top retail trends in autonomous vehicles
Listed below are the top retail trends in autonomous vehicles (AVs), as identified by GlobalData.
Delivery options/speed of delivery
AVs are expected to lower the time of delivery of online orders considerably. In the US, over 75% of shipping costs are related to labour. This includes restrictions that limit drivers to 11 hours on the road per day, delaying delivery time. As of now, Amazon relies on Postal Service and delivery companies such as UPS to deliver orders on demand. However, the introduction of more AVs and longer shipping hours into the delivery process will result in faster deliveries, encouraging store visitors to opt for home delivery services. Autonomous technology companies such as Nuro and Starship Technologies are now building new autonomous delivery vehicles to suit retail specific needs.
Logistics
Achieving last-mile deliveries has always been a major challenge for players in the retail industry. In a bid to overcome the challenge, retailers are turning their attention towards AVs to bridge gaps in their supply chains. With the use of natural language processing, AI, and cloud computer networking, AVs can enhance the speed and efficiency of last-mile deliveries. Ford recently began testing AVs on the streets of Miami and unveiled plans to deploy self-driving vehicles in multiple cities in the US from 2021. Similarly, in 2018, China's e-commerce giant Alibaba began using driverless robots, G Plus, to deliver online orders to secured e-lockers. In 2019, German automotive manufacturing company, Continental AG, announced a new solution to autonomously deliver packages to customers' doorsteps: robot delivery 'dogs'.
Customer service
Retailers are adopting the AV technologies to provide enhanced customer service in stores. In 2018, Walmart signed a deal with AI company Brain Corporation, to deploy 360° floor-scrubbing robots across its stores in the US. The retailer is experimenting with the 920lb self-driving machines, 'Auto-C', in an effort to reduce operational costs and create convenient shopping experiences for customers. The robots, which mop a 26-inch-wide area of flooring at a time, are equipped with computer vision and AI capabilities. Similarly, in 2019, New York-based start-up Caper announced plans to develop AI-powered smart shopping carts that act as an alternative to current cashier-less checkout technologies.
Price elasticity of demand for autonomous delivery
The introduction of AV technology will enable online players to reduce the cost of delivery significantly as they will no longer need to hire drivers to do the job. This enables e-commerce players to increase pressure on brick and mortar retailers, while triggering more online purchases from shoppers. Retailers are striving to use autonomous technology in all stages of their logistics process. Automobile manufacturer, Ford estimates that AVs will drive down delivery costs per mile from $2.5 to $1. The quick and low-cost delivery options encourage shoppers to cut their shopping trips to brick and mortar stores and increase frequency of online purchases.
Mobile stores
Multichannel is extending the capabilities of product personalisation. The continued focus of multichannel shopping ensures that stores will offer greater fluidity between switching purchaser channel. Adding instore interactive displays will mean that more consumers are able to personalise instore rather than relying on home computers to build customised products. IKEA and Made.com both allow customers to personalise their products, creating bespoke furniture layouts online. New concept stores are introducing design rooms to allow customers to do this in store with the support of staff.
Over the next decade, retailers will continue to invest heavily in providing a fluid and efficient multichannel experience. This will include the cooperation of information, the development of tablet/mobile webpages, personalisation of marketing, fulfilment flexibility, and robust customer service.
Effects of AVs on online penetration
As AVs become a common place for everyday commuting, travellers could spend less time driving and more time shopping online, working, catching up on sleep or browsing the web. According to the US Census Bureau, Americans spent 26.1 minutes each way on their daily commute, which equates to 200 hours per year, in December 2017. Following the commercialisation of AVs, e-commerce companies can derive additional business opportunities by installing interactive window and dashboard displays in their vehicles to encourage in-car shopping. AVs will further provide valuable customer data for retailers to harness.
For instance, California-based self-driving car start-up AutoX has launched its first grocery delivery pilot project using autonomous cars in partnership with farm-to-table food delivery service start-up GrubMarket and local grocery store DeMartini Orchard. Though the car drives on autonomous mode, it still requires a human in the vehicle. The start-up offers free deliveries at launch but eventually plans to charge a fee.
Impact of AV on retail spaces
As AVs become a mainstream mode of transportation, brick and mortar stores will have to revamp their store layouts to accommodate the vehicles. Once ride-sharing companies adopt the vehicles to transport customers, a considerable share of store visitors may use the service to travel to physical retail stores. Therefore, retailers may have to turn their parking spaces into drop-off zones or reduce the space allocated to parking. Currently, numerous automobile manufacturers are carrying out autonomous car parking tests. For instance, Volkswagen Group, along with Audi and Porsche, is carrying out a series of tests to demonstrate autonomous car parking at Hamburg Airport in Germany.
This is an edited extract from the Autonomous vehicles in retail – Thematic Research report produced by GlobalData Thematic Research.